Lubricity Treatments for Refineries, Terminals and Pipelines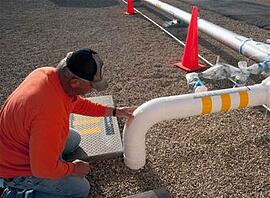 The Lube Pro RB family of lubricity treatment have been uniquely developed to allow fuel distributers to differentiate their products and reduce costs through reduced fuel additive consumption rates.
Bell Performance offers several lubricity-enhancing solutions to give our clients better choices for meeting their needs.
Lube Pro RB-11EC features fully-synthetic ester technology that is #1 in the business.
Lube Pro RB-11CC gives clients neutralized carboxylic acid lubricity technology.
Both Lube Pro RB-11 treatments from Bell Performance allow refiners, fuel terminals and pipeline operators to meet ASTM D6079 HFRR specification at low dose-rates in even the most severely hydrotreated ULSD.
They also contain highly concentrated static dissipaters to meet ASTM D2624 conductivity specifications in all environments.
Treatment Information
Download Lube Pro RB-11EC product data sheet